Hello World
Pastor Kirby's Haiti Missions History
The first time I went to Haiti was in 1998 as part of a small mission outreach of the church Kaye and I were attending at the time-- Coral Ridge Presbyterian Church (CRPC). I was very involved in the Mission Committee and jumped at the opportunity to be included in an exploratory trip to Haiti, led by the church's Missions Pastor. The purpose of the trip was to locate and evaluate ministry opportunities in Haiti, particularly involving Evangelism Explosion. My role on the team was that of a journalist, to document the findings of the team so they could be reported to the congregation. I had only been a Christian for a few years.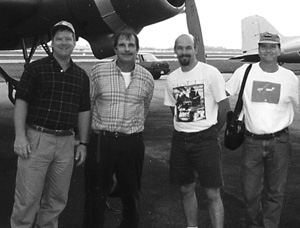 Over a period of two weeks, the four-man team literally traversed the island-country of Haiti from one end to the other. Starting in Limbé, which is a college town near Cap Haïtien, we spent several days in Cap, then along the northern coastline stopping at places like Fort-Liberté and crossing the border into the Dominican Republic at Ouanaminthe. We retraced our steps back to Cap and the west to Limbé and then south to Gonaïves, St-Marc, and ultimately Port au Prince. After several days we left for the southern peninsula, stopping at Jacmel, Les Cayes and ultimately the little village of Cambry. After a few days we returned to Port au Prince where we stayed until it was time to return to Cap Haïtien to catch our plane back to the States. Our intention was to drive from Port to Limbé in a single day and then leisurely make it to the airport to catch our plane about mid-morning. Providentially, things did not work out that way.
Our path took us over a steep mountain barrier to the north of Port au Prince that forms an imposing escarpment around what is known as the Plateau Centrale, which at that time was the most isolated and under-developed part of Haiti. The road we took said "National Route 3" on the map, but it turned out to be a poorly maintained dirt road that was not only full of potholes but sometimes knee-deep in mud. It was the middle of July and had been raining steadily for weeks. To make a long and very frustrating story short, we never made our destination on that day because of the roads, the rain, the mud, and the swollen streams (with no bridges).
But as the Lord would have it, we stumbled upon a missionary compound around twilight about two-thirds of the way to Cap. The missionaries were very gracious and not only put us up for the night but shared their scant food with us. During that meal they quizzed us about our trip and our ministry objectives. When they heard we were interested in teaching evangelism in the area, they immediately began to tell us of a "legendary pastor" named Sidoine Lucien who lived in Pignon (just about a mile or two up the road) who had been evangelizing in that community for almost 50 years. "If you want to learn how to evangelize Haiti", they said, "You must speak to Pastor Sidoine! The impact he has had on that community is little short of amazing!" We were truly upset to have found such a contact and to be in the predicament we were in. Because of all the time we had lost on the bad roads coming over the Plateau, we would have to leave around 4am just to make it to our plane on time. And so, we had to bypass Pignon with the prayer that one day we would be able to make contact with this faithful and intriguing man.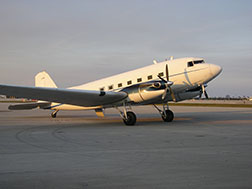 We left early the next morning and ended up making it to Cap Haïtien in time to catch our flight. Our carrier was MFI (Missionary Flights International) which at that time was stationed in West Palm Beach. And who do you suppose was seated right next to me on that old 1942 vintage DC-3 but Jephthe Lucien, pastor Sidoine's son! God definitely had a plan! We had kindred spirits and became friends almost immediately. But neither of us knew at the time the extent of that friendship and that we would become lifelong ministry partners. Jephthe had just returned to Pignon a year or so earlier after completing his mDiv degree at Trinity College in Chicago. He spoke English fluently and we talked the whole 5 hour trip back home. We exchanged contact information and made plans that I would return as soon as I was able.
A return trip was planned for December of the same year-- 1998. This time, I came equipped with a video camera and a large number of gift boxes assembled by the children of CRPC. If you would like to see a short video of this journey,
click here and scroll down to the video clip
. Two things of great significance to my life and ministry occurred on that trip. First, I discovered the power of digital video, and how effectively the needs and challenges of missionaries could be related to congregations back in the States by documenting those needs with video. It launched a ministry that would take me around the world and eventually deposit me at the front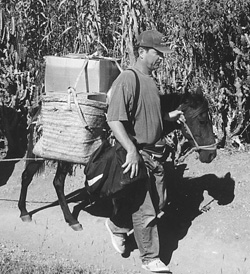 door of New Hope Community Church in 2004. But the other and far more important discovery was that I had a heart that could be permanently broken. And that is what happened to me for the first time when I took about 50 of the gift boxes, loaded them on a donkey and walked into one of the most remote, desolate and desperate places I had ever been. Pastor Sidoine led the excursion and we went to a tiny church which doubled as a school, in a village known as Gaspart. The building was made of coarsely hand-cut wood that looked like a good wind would blow it down. But it was filled with wide-eyed children who were amazed to see a gift-carrying "blanc" in their village. There I handed out the gift packages and lost my heart forever. When I heard those children in that incredibly remote part of the world singing God's praises, and reciting their Bible verses, and when I saw their eyes light up at the simple gifts I had brought-- my heart was broken forever and the ministry objective was established. This is a place I knew we could serve.
Over the next few years, I made multiple trips back to Pignon. Sometimes with gifts, sometimes to conduct Evangelism Explosion clinics, sometimes just to minister in any way I could, and sometimes just to absorb the Haitian culture. During these years several videos were made and distributed to help the Luciens and Jerusalem Baptist Church tell their story to the world.
But it was in 2004 that the die was cast that would shape the course of the future ministry in Haiti. While on a mission trip to Australia as chaperones, Kaye and I were confronted by a group of teenagers, all friends of our daughters and members of CRPC's youth group, who asked us if we would consider taking them on a "real" mission trip to Haiti. That trip took place in January of 2004 with a team of 13 students and four adults. Even though the ministry was in its infancy, the ministry objectives were clearly established on that trip.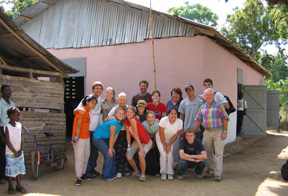 1) To share the Gospel with the children and adults of Haiti, using an arsenal of resources like Pat Cannon's "Simply Jesus".
2) To show the love of Christ by ministering to the physical needs of the people. Over the years we have done this in so many ways: gift packages for the children, clothes for children and adults, spiritual resources translated into Creole, micro loans, cottage industries, sewing ministry, etc.
3) To build, complete and repair churches and schools wherever and whenever we can. And to augment their own efforts to educate their children through scholarships, teaching aids, maintaining teacher's salaries, feeding programs, etc.
4) To worship with the Haitian people both in Pignon and in the more remote parts of the Plateau Centrale, and thereby to encourage them that the body of Christ has not forgotten them.
To say the least, the living conditions were extremely rustic with no electricity and an outhouse down the path-- a fire was lit in both Kaye and myself that has increased with each returning trip. Since that first trip, we have returned with teams to Pignon, at least once a year and sometimes as many as three times, to minister and be ministered to by the people of Haiti.
In 2004 I was called to be the minister of New Hope Community Church and my stint as a missionary took on a new focus. No longer were Kaye and I developing our own ministry, but our efforts were transferred to the mission outreach of the church-- which is another story.